How-to: Rhino Addins
Source:
vignettes/how-to/use-addins.Rmd
use-addins.Rmd
To further streamline your development process, a collection of Addins has been designed to integrate with RStudio. These Addins provide convenient shortcuts and tools for common tasks.
These Addins enhance the RStudio development workflow by providing quick access to essential tasks and enabling background execution, allowing for better transitions between coding and task management.
This guide shows Addins available for Rhino.
Addins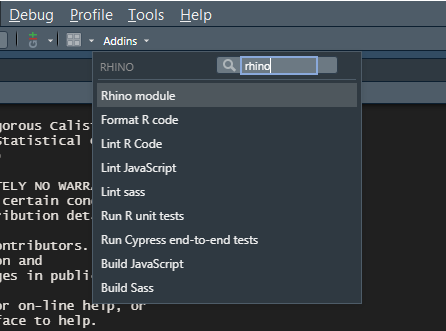 RStudio Addins provide a mechanism for executing R functions interactively from within the RStudio IDE either through keyboard shortcuts, or through the Addins menu.